Dear Restaurant Owner or Manager,
When you were first considering purchasing/opening your restaurant, you probably envisioned living a certain lifestyle as a result of being a restaurant owner.
If you are already living that lifestyle then you are visiting this site to learn about something new that will elevate your "already successful" business to the next level.
If you are struggling or just not meeting the sales goals that you set forth for yourself then you are looking for something that will put you on the right path toward future success.
Either way, you probably got involved in the restaurant business to ultimately achieve certain goals in your personal and family life. Examples of those goals include such things as financial independence, spending more time with family and friends, purchasing a new home or car, college tuition, expanding a business or even taking a dream vacation.
All of the goals listed above can be accomplished once you begin to realize that things like the state of the economy, your competition and other external factors beyond your control are not what may holding you back from being as successful as you want to be.

The Largest Obstacle Standing
In Your Way To Higher Sales . . .
So let's assume that you have excellent food, a nice atmosphere, a great staff and all of the basic elements needed to achieve success. If any of the above are missing then it will be very difficult to get customers to come back more than once.
With that being said, the largest obstacle standing in the way of higher sales for most restaurants is the LACK OF EFFECTIVE, RESPONSE DRIVEN MARKETING / ADVERTISING.
When most people think of marketing / advertising, they think of things like radio, tv, newspaper, yellow pages, coupon mailers, etc... Businesses have been using these types of traditional media for years to attract customers.
The reality is that these things are no longer as effective as they once were and today they are more costly than ever. Continuous use of these forms of media can put you on a hampster wheel that you may never come off of. Effectively many restaurants become a slave to monthly advertising obligations.
In order to be successful in today's economy, restaurant owners everywhere are realizing that they need to bypass these ineffective and costly forms of media and create a direct connection with their customers through the use of technology.

The "Big Secret" To Getting Your Customers
To Visit More Often And Spend More . . .
Ask yourself: What would your relationship with your friends, your family, your spouse, or your co-workers be like if you never communicated with them (no emails, no text messages, no phone calls, no tweets or facebook posts)?
The obvious answer is that you can't expect to carry on a good relationship with someone if you never communicate with them. The same thing is true for your customers: no communication = poor relationship which results in poor sales.
THE TRUE SECRET to higher sales for your restaurant is in knowing who your customers are (by collecting their contact information) and communicating with them on a regular basis about things that matter to them.
Imagine what your sales would be like if you could just get your existing customers to visit or order from your restaurant just one more time each month (the average restaurant customer visits / purchases twice per month). Therefore an additional visit by your typical customer will result in a sales increase of as much as 50% or more.
Communication: A Difficult Challenge
Communicating with your customers can be a very time consuming process. You need to know the best way to communicate with them, how often to communicate with them, what the content of the message should be and most importantly, you would need to have a number of systems in place to manage everything including the following:
a customer database management system
an email delivery system
a text messaging delivery system
pre-written message content
a communications scheduling system
a mechanism for tracking individual responses
an autoresponder for ongoing followup
a dedicated person to manage everything on a daily basis
In addition to everything listed above, you will also need to continually experiment to figure out what works and what doesn't. That doesn't sound like much fun does it?
What if there was one system that did it all for you and let you focus on what you do best: provide great food and service?

Restaurant Sales Builder is a "done for you" customer communications, follow-up, reward, feedback and referral system. Restaurant Sales Builder schedules and delivers timely, personalized, response driven communications to your customers, collects valuable feedback via online surveys, and generates a steady stream of new referrals (including friends, relatives, neighbors and co-workers of your existing customers).
Therefore, with little or no effort on your part, Restaurant Sales Builder increases the frequency of visits, generates new customers and provides real-time customer feedback so that you know exactly how your customers are feeling about your restaurant.
Restaurant Sales Builder makes it easy for you to build a relationship with your customers by communicating with them periodically via their preferred media format (method of communication). This is very important because as we all know, some customers respond only to email, some only to postal mail and many now prefer text message. Restaurant Sales Builder will intelligently determine which format works best for each customer in order to maximize the response.
With Restaurant Sales Builder, you will also be notified regulary of customer comments, expectations or concerns so you can do your best to keep everyone happy. Wouldn't it be nice to login, and within a matter of minutes read all of your customer feedback from the day before?
If you do not have an effective way of communicating with your customers directly, then you are leaving a lot of money on the table? Restaurant Sales Builder will help you build better relationships with your customers and put you on the path to higher sales!
How Does Restaurant Sales Builder Work?
The Restaurant Sales Builder Program is very easy to implement and will work in any restaurant regardless of concept, size or geographic location. The following is a step-by-step description of exactly how it works:
Inside Your Restaurant:
Step 1. Invite every customer that visits your restaurant to join your VIP program and provide them with the simple membership form (included with the program).

Step 2. After the customer membership form has been completed, you then provide the customer a VIP Membership Card.

Step 3. Enter the customer contact information from the form into your Restaurant Sales Builder online control panel.

Step 4. Your customer then receives a personalized welcome email and a special offer to come right back in again.

Step 5. When customers visit or make a purchase, you simply scan their membership card or the special offer they bring in with them (using the included USB bar code scanner) and enter the total amount spent.

Step 6. Your customers periodically receive survey requests, which offer an incentive (additional reward points) for their feedback.

Step 7. Your happiest and most valuable customers are encouraged to refer their friends, relatives, neighbors and co-workers to your restaurant. This results in a continuous flow of new customers.

Step 8. Restaurant Sales Builder automatically tracks customer spending and issues rewards (you set the value) when customers reaches specified point totals.

Step 9. Restaurant Sales Builder automatically sends out additional offers on special occasions throughout the year to bring customers in over and over again. In addition to the automated promotions, you also have the ability to send customized email and text message broadcasts from within your control panel.
Online Via Your Website:
We provide you with a special link (web site plugin) that you can add to your web site, enabling your web site visitors to quickly and easily join your program. If you don't have a web site, no problem, we will set you up with our web site starter package for FREE. Just mention it to your account representative after you sign up.
Step 1. Visitors to your web site click a link to join your VIP program and complete a short form including all of their contact details.

Step 2. The visitor is automatically added to your program and immediately receives a Welcome email containing a special offer (chosen by you).

Step 3. The new VIP member brings in the offer during a visit to your restaurant and is assigned a membership card by one of your staff members.

Step 4. The new member continues to earn reward points and receives additional offers on special occasions throughout the year
Whether your customer is in your restaurant or online, joining the program only takes a few minutes. Your customers will be happy to provide you their information in exchange for becoming a VIP member and receiving all of the valuable rewards and benefits.

What Is The Cost Of Restaurant Sales Builder?
For approximately $10 per day (about one menu entree) you get a program that does everything mentioned above so you can put your marketing on auto-pilot and start increasing your sales fast.
Don't take another nickel out of your pocket to pay for Restaurant Sales Builder. Simply re-allocate just $297 a month from some other tired, worn out, low response advertising (newspaper, radio, coupon mailers, etc...) that you may currently be doing and invest it in the Restaurant Sales Builder program. You won't regret it!

Read on to learn more about why Restaurant Sales Builder is different from other programs, the results you can expect, everything that is included with the program, and how you can get started RISK FREE TODAY.

What Makes Restaurant Sales Builder


Different From Other Programs?
Restaurant Sales Builder is extremely unique and provides a number of KEY ADVANTAGES over most of the restaurant marketing programs that are available today.
The program was designed specifically for restaurant owners and developed by a successful restaurant owner who was frustrated with traditional marketing and advertising methods.


The program is very easy to setup and operate, you won't need any expensive processing equipment or technical knowledge to manage the program.


You have the ability to communicate with your customers directly from your PC using all forms of media such as email, text message, direct mail, voice broadcast and social media.


Restaurant Sales Builder utilizes one centralized customer database. There is no need to have multiple systems, multiple lists or data files that require constant comparing and deduping.


The program will automatically determine which media format your customers prefer and will communicate individually with them in the manner they desire resulting in higher response rates.


The program is completely custom branded for your restaurant including your emails, loyalty cards and online sign up pages. You will not see our logo all over the program, just yours. In fact your customers will think you developed the program on your own.


There are NO HIDDEN FEES or SURPRISES. One fixed monthly fee covers everything listed below.
The Restaurant Sales Builder program will simplify and automate your marketing, saving you time and money while substantially increasing your sales.
What Type Of Results Can Be Expected?
While we cannot guarantee specific program results, we can share with you an illustration of what a 10% increase in sales would look like for a sample restaurant on our program. As with any program, individual results may vary**. Some of our clients have realized sales increases of over 30% using the Restaurant Sales Builder program.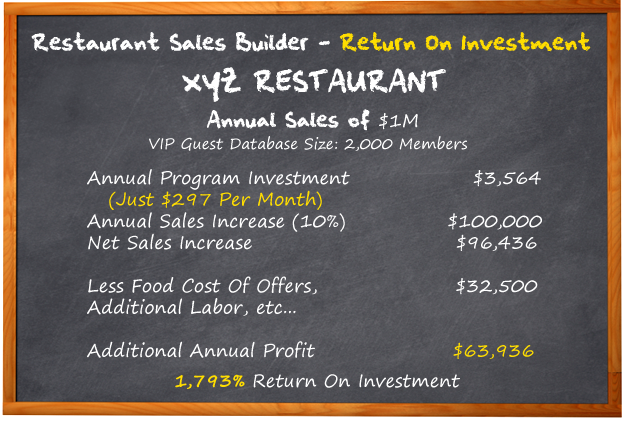 As you can see from the illustration above, the impact that a 10% increase in sales could have on your bottom line. It is a simple formula, the more you put into the program, the more you will get out of it.
On average, our clients can expect between $25 - 40 back in return for every dollar invested into the program. When compared to expensive, underperforming traditional advertising methods, the Restaurant Sales Builder program wins every time.
Once you have the Restaurant Sales Builder program in place and you have built up a decent size member database, the opportunities are endless. You will have more control over your sales than you have ever had before.

What Is Included With Restaurant Sales Builder?
The following is a list of everything that is included with the program. Click on any of the items below for more details.